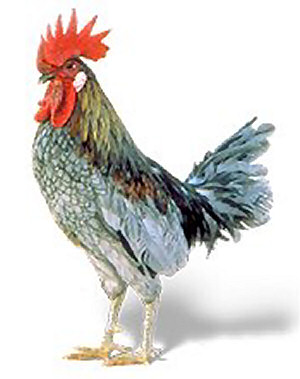 Well, I'm in Wilmington, Delaware for work right now. I'm in my hotel room because there is nowhere I'd want to go around town. The town is frankly quite run-down. The only nice buildings I've seen are some of the skyscrapers owned by the credit card companies (lots locate here for DE's very tax-friendly environment, I guess), the courthouse, and this building on the riverfront that had a restaurant in it as well as a food market and some other shops.

Things I've learned about Delaware:
Their state bird is the blue hen. See the picture above.
Wilmington is said to be the first city in the country to install security cameras downtown in an attempt to curb crime.
Delaware actually did worse on their second CFSR (Child and Family Service Review- the way the Feds check up on how the state child welfare agency is performing) than on their first.

Uplifting, eh?

I watched five dependency court hearings today and I should see four more tomorrow. It's interesting to see the process and to see the families that come in for these things. I don't know if it gets quite as exciting as seeing a "Who's my baby's daddy?" episode on Jenny Jones, but it's pretty darn close. Definitely more excitement than going to the office.